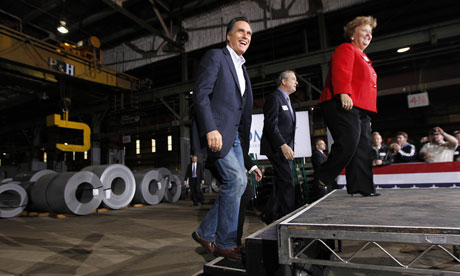 There's an old saw in American political science research that a long drawn-out primary campaign, rather than weakening a candidate, actually makes him (or her) stronger. Proponents of this theory will point to the example of Barack Obama during the 2008 campaign for president and his long slog for the Democratic nomination.
Conventional wisdom and political science: meet Mitt Romney.
It's certainly possible that Romney has benefited from the series of humiliations and political gaffes that are more popularly known as the 2012 Republican presidential nominating contest, but right now, it's pretty hard to make that case.
Recent polling tells an ugly story. The latest ABC/Washington Post Poll gives him a favorability of 33% and an unfavorability of 46%; a recent Politico poll puts his unfavorability above 50%. The longer these numbers stay negative, the greater the risk that a toxic public perception of the candidate will be become firmly lodged in the minds of voters.
Romney's dilemma, of course, is that he is perceived as something of a "Richie-rich", who is out-of-touch with the economic concerns of ordinary Americans. This perception is due in some measure to the fact that Romney is probably the richest man ever to seek the nation's highest office.
1 note
santorumforgop likes this
leftwest posted this